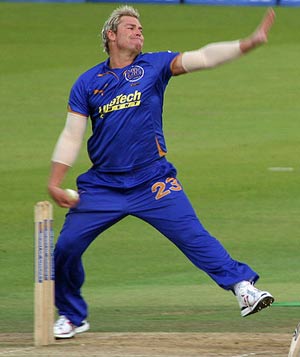 I just play because I love playing and I try and take as many wickets as I can.
– Shane Warne
Shane Warne is one of the greatest bowlers of all time. His record of test wickets is 708 wickets in 145 tests, at an average of 25.. He is undoubtedly one of the greatest exponents of leg spin bowling of any era. Shane Warne helped to promote leg spin bowling at a time when fast bowling was very dominant.
He finished with 1,319 first class test wickets at an average of 26.11
With his flop of blond hair Shane Warne was one of the great characters of the game. At times he could court controversy, but, he is primarily remembered for his vast array of googlies, leg breaks and other armour of his leg spin.
My life was falling apart and then to come out and play and have my best ever – 40 wickets, 250 runs… But the only reason I could do that was because of the way I thought and I think I'm pretty strong mentally. I think I am anyway, pretty strong to get over whatever it is.
– Shane Warne
Shane Warne helped cement Australia as the dominant cricketing force of the 1990s and 2000s. In particular, he was dominant in Ashes series against England. One of the great moments of the game is his first ball to dismiss Mike Gatting (who had recently come out of retirement). The ball pitched outside leg stump when behind Mike Gatting's pads and clipped the off stump bail. The ball must have spun at least a foot and completely outfoxing Mike Gatting.
He had a reputation for being a bit of a bad boy. He was disciplined on a few occasions, and enjoyed the odd drink. On a tour of England, he was criticised for being overweight, when asked if he had put on two stone, he replied by saying:
"It's simply not true: I put on close to 3 1/2 stone. I came over 81kg and was just off 100kg when I came back…I drank every night and ate absolute rubbish for six months"
Cricketers
photo top Brown CC