Sir Leonard Hutton 1916-90. England Test cricketer. One of finest batsmen of the era. Hutton once held the record for highest ever test score – 364 made at the Oval against the Australians in 1938. Despite a six-year break, where he fought in World War Two, he scored nearly 7,000 test runs at an average of 56.
"With Hutton, figures did not lie. He stood head and shoulders above every other batsman and, taking all factors into consideration, worthily earned the description of the finest present-day batsman in the world."
– Wisden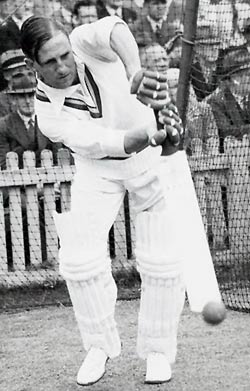 Born in a cricketing family in the village of Fulneck in Pudsey. Len Hutton displayed a remarkable talent for cricket from an early age. By the age of eighteen, he had made his debut for Yorkshire. Although his first innings was a duck – this did not prove to be an indication of his immense talent and ability. At the age of 21, he made an epic 364 at the Oval against Australia in 1938. At the time this was the world's longest first-class innings and broke the previous test record set by the great Don Bradman.
Sir Leonard Hutton was more than a cricketer. He was a real gentleman with a modest demeanour. He brought the qualities of determination, discipline and restraint to the cricketing crease creating at times an attitude of invincibility. Often the fortunes of England were closely connected to the fortunes of Len Hutton. After the war, he was made the captain of England and led England to regain the Ashes in 1953. His cricketing career was all the more remarkable for the long break during the Second world war, where, in a war injury he lost two inches off his left arm.
Despite this injury, it didn't seem to affect him. Before the w, r he made over 11,700 runs at an average of 48.98. After 1945 he made another 28,292 runs at an average of 58.81. This included 129 hundreds. If the war had not intervened his record would have been even more special.
He was one of the few cricketers to be knighted by the Queen.
Test Career
Career statistics – Len Hutton
Competition
Test
First Class
Matches
79
513
Runs scored
6971
40140
Batting average
56.67
55.51
100s/50s
19/33
129/179
Top score
364
364
Best bowling
1/2
6/76
Catches/stumpings
57/–
401/–
Source: cricketarchive.com, 14 August 2007
Related