"In cricket, triumph and disaster will come again; but, in this world, Charles Fry will not"
– R.C. Robertson-Glasgow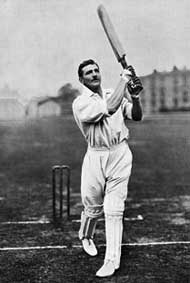 C.B.Fry (25 April 1872 – 7 September 1956), belonged to another era. A consummate sportsman he excelled at both cricket, rugby and football. He also held the world long jump record for 21 years.
In one season 1902, he played in the FA Cup final and two days later was making 82 in a county cricket game.
In 1901 he scored over 3,000 runs at an average of 78. He was also not just a great sportsman but epitome of a Victorian gentleman. He was a noted wit and conversationalist, there were few things he couldn't turn his hand to.
He was educated at Repton College, then Wadham College, Oxford University. At Oxford, he won a blue for cricket, athletics and football. He missed out on a blue for rugby because of injury.
C.B. Fry developed a reputation for being a truly unique character. Vanity Fair poked some fun at his expense, saying: "He is sometimes known as "C.B."; but it has lately been suggested that he should be called 'Charles III'.
Living life to the full, C.B.Fry accumulated large debts, and became stressed at the attempt to reduce them. He even took to nude modelling. This stress caused him to have a nervous breakdown in his last term. He scraped through the University with a 'fourth class' degree – so low you can no longer get a fourth.
He also left still with debts, but fortunately, he was selected to play cricket for England on a tour to South Africa.
He was a versatile sportsman, but perhaps excelled most at cricket. Playing for Oxford University, Sussex, Hampshire and England, he scored 94 centuries, 30,000 runs and 176 wickets.
He represented Southampton in an F.A. Cup final in 1902.
From the mid 1920s, his mental health was increasingly volatile, and he became paranoid. It recovered a little in the 1930s and 1940s, and he wrote articles on cricket.
He died in 1956 in Hampstead, London.
Related pages