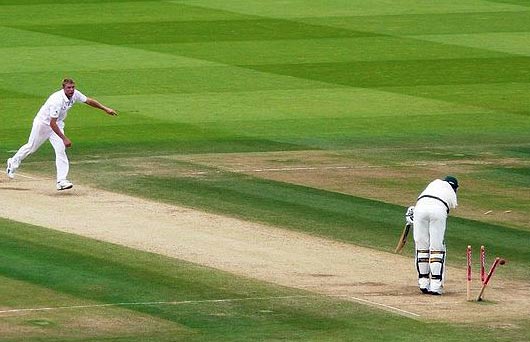 Flintoff attended school at Ribbleton Hall in Preston. Though he barely played cricket at school, he learnt the game with his dad and his brother, including practising on the beach, before joining his local club, Harris Park. At age 13 he joined the local club in Lytham St Annes, with whom he stayed for three years, frequently impressing with his hard-hitting batting style and ability to score quick runs. It was from there that Lancashire signed him.
He struggled to make the step up to county level: his first-class debut in August 1995 against Hampshire at Portsmouth, was marked by a nervous display in the field, in addition to scoring only 7 runs and bowling 11 wicketless overs. Michael Atherton recalled "He dropped about 5 catches. He had this reputation as a great slipper because of the size of his hands, but being in the slips to Wasim Akram was a different ball game to being in the second XI. His was quite a steep, harsh learning curve".
Criticism, injury and fitness troubles
In his early county and international career, Flintoff was considered a raw but unfulfilled talent, attracting comparisons with Ian Botham often made (more in hope than expectation) by his country's tabloid press. He was often accused of a poor attitude to fitness (possibly because of this, his early career was hampered by a series of back problems) and poor concentration when batting, often getting out to ill-considered, overly aggressive shots. He was often mocked for his weight, at one point over 19 stone, notably by fans of local rivals Yorkshire. He has admitted that an average "night out" drinking could often start in the early afternoon, and Lancs team-mate Stuart Law claimed his drinking could match the legendary levels of Australian cricketer David Boon.
Flintoff was captain of the England Under-19 team for their "Test" match tour to Pakistan in 1996/7 and at home against Zimbabwe in 1997. Though he made his Test match debut for England in 1998 against South Africa, his struggle to make the grade at county level continued, he found form only intermittently, though often explosively when he did so. In 2000 he hit 135 not out in the Quarter-finals of the Natwest Trophy against Surrey, which David Gower described as "the most awesome innings we are ever going to see on a cricket field".[1] In the same year England's management made clear they were unhappy with his fitness and weight, Flintoff responded to his critics with 42 not out in a one day game against Zimbabwe on his home ground of Old Trafford, forming an explosive second wicket stand with Graeme Hick; as he collected the Man of the Match award he remarked his performance was "not bad for a fat lad".
Though he lost his England place during 2001, he remodelled his bowling action and he gained a place on the 2001-02 tour to India. Though he hit possibly his worst international batting form during the Test series, frustrating him to the point that he broke down in tears in the dressing room at one stage, he later saw the tour as a turning point in his career, specifically the crucial final one-day match. Entrusted with bowling the final over with India needing 11 to win, he ran out Anil Kumble and bowled Javagal Srinath with successive balls to win the match, ripping off his shirt in celebration, through both joy and personal relief.
Improved consistency, step-up to key international player
In 2002 he scored his maiden Test century. By 2003, a newer, fitter Flintoff started to justify the comparisons with Botham. Up to the end of 2002, he had averaged just 19 with the bat and 47 with the ball; from 2003 to the end of the 2005 Ashes series, the corresponding figures were 43 and 28. In the summer of 2003 he scored a century and three fifties in the 5 Test series against South Africa at home, and continued to excel on the tour of the West Indies in March and April 2004, taking five wickets in the Test in Barbados, and scoring a century in Antigua. In early 2004 he was named as a Wisden Cricketer of the Year, having failed to make Wisden's top 40 list in 2002.
Although injury prevented him from bowling, he was called into the England squad for the 2004 Nat West One-day International Series against New Zealand and the West Indies as a specialist batsman, scoring two consecutive centuries in the series and hitting seven sixes in one innings.
He matched this haul in the Second Test against the West Indies at Edgbaston in July, hitting a first-class best figure of 167. Over the course of England's record-breaking summer, he hit a half-century in all seven victorious Tests against New Zealand and the West Indies. On returning to the one-day game as an all-rounder in September he fell agonising short of a third one-day century, caught on 99 against India, though he went on to hit a further century in the ICC Champions Trophy pool match against Sri Lanka two weeks later. At the end of the season he was named as the inaugural winner of the ICC Award for one-day player of the year, and the Professional Cricketers' Association player of the year. He also became a father for the first time when his fiancée Rachael Wools gave birth to Holly on 6 September. They now have a second child, Corey, who was born during the series in India in 2006. Freddie briefly returned home from the tour to see his son for the first time and did not miss any matches in the process.
2005: Ashes winner and author
Following the Test series in South Africa in December 2004 and January 2005, Flintoff flew home for surgery on his left ankle, leading to worries he might not regain fitness in time for The Ashes. In fact, following a rehabilitation programme of swimming and hill-walking, he recovered ahead of schedule and was able to return to action for Lancashire in April.
In the Second Test against Australia at Edgbaston in August 2005, he was made man of the match after he broke Ian Botham's 1981 record of six sixes in an Ashes Test Match with five in the first innings, and a further four in the second innings. In the same game he took a total of 7 wickets (across both innings) and managed all this despite a shoulder injury early in the second innings. England won the game by the narrowest of margins – just 2 runs. England captain Michael Vaughan subsequently dubbed the match "Fred's Test" in honour of Flintoff's achievement.
For his achievements throughout the 2005 Ashes series, which was won by England, he was named as "Man of the Series" by Australian coach, John Buchanan. His achievement also won him the inaugural Compton-Miller Medal. He was also awarded the Freedom of the City of Preston.
In September 2005 an extract from Flintoff's autobiography, Being Freddie, was published in The Times. In it, he claimed that he had been shot at while fielding near the boundary in an ODI in New Delhi in 2002. Flintoff said, "I felt something hit me and, looking down, saw pellets on the ground. You expect to have plastic bottles thrown at you when you are playing on the sub-continent, but you don't expect to be shot."  The Indian cricketing authorities rejected this version of events, with one official questioning why nothing was said at the time, and saying, "He can't be serious". New Delhi police also expressed surprise that the incident had been brought up three years later: "If there was any such thing at that time it would have been brought to our attention and action taken," Delhi police spokesman Ravi Pawar said.
In October 2005, Flintoff shared the Sir Garfield Sobers Trophy for the ICC player of the year award with Jacques Kallis of South Africa.
In December 2005, Flintoff was crowned BBC Sports Personality of the Year for 2005, the first cricketer since Botham in 1981. In the New Year's Honours List for 2006, Flintoff was appointed an MBE for his role in the successful Ashes side.
In January 2006, Flintoff was presented with Freedom of the City award for Preston, Lancashire. The award was presented to Flintoff by the Mayor of Preston. The Freedom of the City award entitles the recipient to receive a free beer in any bar or Pub in Preston, Lancashire. In addition Flintoff can also drive through a flock of sheep through the city centre. Other recipients of the award include Sir Tom Finney and Nick Park.
In April 2006, he was named Wisden Leading Cricketer in the World.
England captaincy – Andrew Flintoff
In February 2006, following England captain Michael Vaughan and vice-captain Marcus Trescothick becoming unavailable for the first Test match against India, Flintoff was named captain of the England team and subsequently announced that he would be staying in India for the entire Test series, although he and his wife were expecting their second child. His wife gave birth to a son, Corey, shortly before the second Test on 9 March. [5] It is not yet clear if Flintoff will keep the captaincy long-term; this partly depends on when Vaughan returns to action.
On the field, Flintoff was seen as a great success during the drawn series with India, with a 212-run victory in Mumbai. His contributions with both bat and ball ensured that he was named as the player of the series, with many commentators seeing Flintoff as someone who not only worked better under the responsibility but was also viewed as a great influence of an inexperienced side, which included many debutantes, such as Alastair Cook, Owais Shah and Monty Panesar. Flintoff amassed four fifties in the series, and took 11 wickets, on unfriendly surfaces for seamers. Flintoff continued to captain England during the seven ODIs in India, although he was rested for two matches.
However, following a recurrence of his long-term ankle problem in May 2006, he missed captaining the side for both the ODI series against Sri Lanka, and the first Test against Pakistan. It was later announced in July that Flintoff's rehabilitation had not been sufficient to quell the injury, and that further surgery would be required. He was thus ruled out for the entire series against Pakistan. Despite injury concerns, Flintoff was later named for the ICC Champions Trophy, where he played as a specialist batsman, not as an all-rounder.
2006-07 Ashes series
After his previous stint as captain in the Test series against India, Flintoff returned as captain of the England team for the eagerly anticipated 2006-07 Ashes series in Australia. The series turned out to be a humiliating one for Flintoff, leading his side to five straight loses and thus losing the Ashes after having held it for the shortest time in history. In addition, he presided over England's worst ever defeat in an Ashes series, equalling the series whitewash at the hands of the Warwick Armstrong led Australian team in the wake of WWI. Flintoff's own play in the 2006-07 series, both bowling and at the crease, has been generally deemed poor, with only two scores over 50 in the series and with the best bowling of 4/99 and only one test where he took more than 5 wickets a match.
Article Source: Wikipedia
This articles is freely available under the GNU documentation license.
Other Links
Andrew Flintoff's Official Site