"True religion has a universal quality. It does not find fault with other religions. False religions will find fault with other religions; they will say that theirs is the only valid religion and their prophet is the only saviour. But a true religion will feel that all the prophets are saviours of mankind. Forgiveness, compassion, tolerance, brotherhood and the feeling of oneness are the signs of a true religion."
– Sri Chinmoy
"No religion is absolutely perfect. Yet not only do we fight for religion, but also are we often willing to sacrifice our lives for it. And what we hopelessly fail to do is to live it. A true religion is that which has no caste, no creed, no colour. It is but an all-uniting and all-pervading embrace."
– Sri Chinmoy
"If we live in our oneness-heart, we will feel the essence of all religions, which is love of God. But if we live in the mind, we will only try to separate one religion from another and see how their ideologies differ. It is the heart that can have a true intuitive understanding of the height and breadth of all religions. It is the heart that sees and feels the inner harmony and oneness of all religions."
– Sri Chinmoy (2)
"The aggressive and quite illogical idea of a single religion for all mankind, a religion universal by the very force of its narrowness, one set of dogmas, one cult, one system of ceremonies, one ecclesiastical ordinance, one array of prohibitions and injunctions which all minds must accept on peril of persecution by men and spiritual rejection or eternal punishment by God, that grotesque creation of human unreason which has been the parent of so much intolerance, cruelty and obscurantism and aggressive fanaticism, has never been able to take firm hold of the Indian mentality."
~ Sri Aurobindo
"India is the meeting place of the religions and among these Hinduism alone is by itself a vast and complex thing, not so much a religion as a great diversified and yet subtly unified mass of spiritual thought, realization and aspiration. "
– Sri Aurobindo
"Each religion has helped mankind. Paganism increased in man the light of beauty, the largeness and height of his life, his aim at a many-sided perfection; Christianity gave him some vision of divine love and charity; Buddhism has shown him a noble way to be wiser, gentler, purer, Judaism and Islam how to be religiously faithful in action and zealously devoted to God; Hinduism has opened to him the largest and profoundest spiritual possibilities. "
– Sri Aurobindo (Essays in Philosophy and Yoga, p.211)
"A great thing would be done if all these God-visions could embrace and cast themselves into each other; but intellectual dogma and cult egoism stand in the way."
– Sri Aurobindo (Essays in Philosophy and Yoga, p.211)
"All fanaticism is false, because it is a contradiction of the very nature of God and of Truth. Truth cannot be shut up in a single book, Bible or Veda or Koran, or in a single religion. The Divine Being is eternal and universal and infinite and cannot be the sole property of the Mussulmans or of the Semitic religions only, – those that happened to be in a line from the Bible and to have Jewish or Arabian prophets for their founders."
– Sri Aurobindo
" All religions have some truth in them, but none has the whole truth; all are created in time and finally decline and perish. Mahomed himself never pretended that the Koran was the last message of God and there would be no other. God and Truth outlast these religions and manifest themselves anew in whatever way or form the Divine Wisdom chooses."
– Sri Aurobindo (On Himself, p.483.)
"Common men talk bagfuls of religion but do not practise even a grain of it. The wise man speaks a little, even though his whole life is religion expressed in action."
– Sri Ramakrishna
"God can be realized through all paths. All religions are true. The important thing is to reach the roof. You can reach it by stone stairs or by wooden stairs or by bamboo steps or by a rope. You can also climb up by a bamboo pole." (p. 111 – Gospel of Ramakrishna)
– Sri Ramakrishna
"I had to practise each religion for a time — Hinduism, Islam, Christianity. Furthermore, I followed the paths of the Shaktas, Vaishnavas, and Vedantists. I realized that there is only one God toward whom all are travelling; but the paths are different." (p. 129)
– Sri Ramakrishna
"If there are errors in other religions, that is none of our business. God, to whom the world belongs, takes care of that." (p. 559)
– Sri Ramakrishna
"I am proud to belong to a religion which has taught the world both tolerance and universal acceptance. We believe not only in universal toleration, but we accept all religions as true. As different streams having different sources all mingle their waters in the sea, so different tendencies, various though they appear, crooked or straight, all lead to God."
– Swami Vivekananda – from Speech at World Parliament of Religions (1893)
"The greatest religion is to be true to your own nature. Have faith in yourselves!"
– Swami Vivekananda
"Religion has no business to formulate social laws and insist on the difference between beings, because its aim and end is to obliterate all such fictions and monstrosities."
– Swami Vivekananda
"The essential thing in religion is making the heart pure; the Kingdom of Heaven is within us, but only the pure in heart can see the King. While we think of the world, it is only the world for us; but let us come to it with the feeling that the world is God, and we shall have God."
– Swami Vivekananda
"We must be bright and cheerful. Long faces do not make religion. Religion should be the most joyful thing in the world, because it is the best."
– Swami Vivekananda
Self-realization is, in fact, the only religion. For it is the true purpose of religion, no matter how people define their beliefs.
– Paramhansa Yogananda
"If religion, instead of being the manifestation of a spiritual ideal, gives prominence to scriptures and external rites, then does it disturb the peace more than anything else."
– Rabindranath Tagore
"The pious sectarian is proud because he is confident of his right of possession in God. The man of devotion is meek because he is conscious of God's right of love over his life and soul."
– Rabindranath Tagore
"Religion, like poetry, is not a mere idea, it is expression. The self-expression of God is in the endless variety of creation; and our attitude toward the Infinite Being must also in its expression have a variety of individuality – ceaseless and unending."
– Rabindranath Tagore
"True religion is real living; living with all one's soul, with all one's goodness and righteousness."
– Albert Einstein
"I never told my own religion nor scrutinized that of another. I never attempted to make a convert, nor wished to change another's creed. I am satisfied that yours must be an excellent religion to have produced a life of such exemplary virtue and correctness. For it is in our lives, and not from our words, that our religion must be judged."
– Thomas Jefferson
"It is easy enough to be friendly to one's friends. But to befriend the one who regards himself as your enemy is the quintessence of true religion. The other is mere business."
– Mahatma Gandhi
"Religion is to do right. It is to love, it is to serve, it is to think, it is to be humble."
– Ralph Waldo Emerson
"My religiosity consists in a humble admiration of the infinitely superior spirit that reveals itself in the little that we, with our weak and transitory understanding, can comprehend of reality. Morality is of the highest importance – but for us, not for God. "
~Albert Einstein
"In the matter of religion, people eagerly fasten their eyes on the difference between their own creed and yours; whilst the charm of the study is in finding the agreements and identities in all the religions of humanity."
– Ralph Waldo Emerson:
"The religion that is afraid of science dishonors God and commits suicide."
– Ralph Waldo Emerson
"This is my simple religion. There is no need for temples; no need for complicated philosophy. Our own brain, our own heart is our temple; the philosophy is kindness."
Tenzin Gyatso, 14th Dalai Lama:
Related pages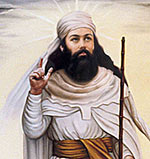 Famous Religious leaders and founders – Key people who helped to found different religions and spiritual movements.