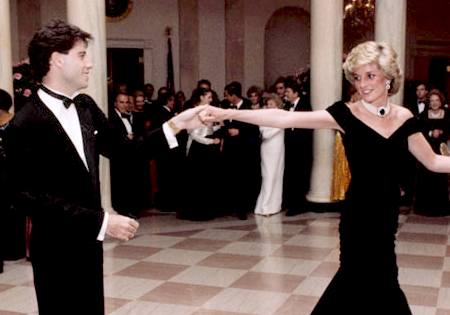 Britain's Princess Diana of Wales dancing with actor John Travolta at a White House dinner on November 9, 1985
Princess Diana was introduced by Ronald Reagan who temporarily forgot her name.
Permit me to add our congratulations to Prince Charles on his birthday just five days away," he said, "and express also our great happiness that .. . er … Princess David – Princess Diane (sic) here on her first trip to the United States."
He also added his congratulations to Charles whose birthday was just 5 days away.
During their visit to America most of the attention focused on Princess Diana, this was something repeated in many locations. The media had an intense interest in the fairy tale story of Princess Diana. Unfortunately she was not living a fairy tale as her marriage was already on the rocks. She would later admit her adultery in a TV interview broadcast in 1995.
The American media would generally remain very supportive of the Princess even when the British Media became critical of the princess.
Video of Princess Diana in America
Picture at the White House
Princess Diana Links