Bono (Paul David Hewson) is an Irish musician, singer and activist.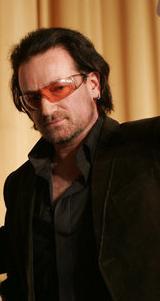 Bono is the lead singer and main songwriter for the music group U2. His lyrics frequently refer to religious, political and social themes and, especially in the early days, were noted for their rebelliousness.
Bono is active in campaigning and supporting charities in Africa, such as Project Red and the ONE campaign. Bono says he was inspired to get involved in philanthropic work after taking part in the Secret Policeman's balls in 1979.
Bono has become one of the best known faces for humanitarian work, often collaborating with politicians, such as George Bush and Brazilian President Lula da Silva in an effort to aid
He is married to Alison Hewson (née Stewart) they have four children.
Some of Bono's greatest hits with U2 include
"With or Without You"
"One"
"I Still Haven't Found What I'm Looking For"
"Pride (In the Name of Love)"
"Sunday Bloody Sunday"
"Where the Streets Have No Name"
"I Will Follow"
"New Year's Day"
"Desire"
"Gloria"
Related pages