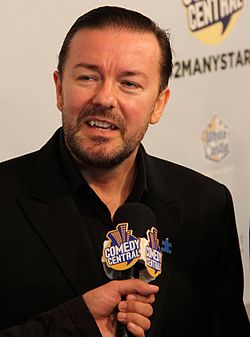 Ricky Gervais has risen to the top of British comedy, for his innovative performances in his own productions of the Office and recently, Extras. His comedy is quite unique and includes a taste for the comedy of embarrassment, which during the Office can at times be excruciating. Gervais helped to popularise a new comic style – the observational documentary. He has been a controversial presenter at the Golden Globe Awards in the US, often embarrassing guests with his sarcasm and ironic humour. Ricky Gervais is also a noted atheist and in June 2008 he became an Honorary Associate of the National Secular Society.
Ricky Gervais was born June 25, 1961, to a French Canadian father. Ricky was brought up on a council estate near Reading and enjoyed a fairly "normal and happy childhood".
Ricky studied Philosophy at University College London, where he graduated in 1979 with a 2:2. After finishing his studies he temporarily formed a band, Seona Dancing. They produced 2 singles, both of which failed to get into the top 40, although, bizarrely one of their songs become a big hit in the Philippines, one year after the groups demise. He later made reference to this failed time as a pop start in an episode of the Office.
After the demise of the band Ricky worked at various odd jobs related to the media and music. For example, he managed the group Suede for a time. In the 1990s he made his first break through in TV, gaining slots on Channel 4 TV in programmes such as, The 11 'O clock show. He even had his own chat show "Meet Ricky Gervais"; however, this was not a success, and even Ricky has later mocked his performance in it.
The Office and Extras
The big break for Ricky Gervais came in 2001, when his own show the Office was piloted on BBC. The comedy was scripted with long time friend Stephen Marchant. The series proved a big hit, gaining a cult following. In the office, Ricky Gervais plays the boss, David Brent. David Brent is a caricature of the annoying boss. Although exaggerated for comic effect, it seemed to hit a nerve with many viewers; his sayings have gone onto become popular catch phrases.
"Life is just a series of peaks and troughs. And you don't know whether you're in a trough until you're climbing out, or on a peak until you're coming down. And that's it you know, you never know what's round the corner. But it's all good. "If you want the rainbow, you've gotta put up with the rain." Do you know which "philosopher" said that? Dolly Parton. And people say she's just a big pair of tits."

— Ricky Gervais, Office
There was an American version of the Office, although it was moderated for the tastes of American audiences. After the second series Ricky Gervais decided to bring the series to an end. However, he did start working on a new programme Extras. In Extras, Ricky Gervais plays an aspiring actor, who struggles to get more than a silent extra part. A feature of the new programme was his ability to attract top stars to perform as a guest actor. It is testament to his standing that he was able to attract top stars, such as Patrick Stewart, to willingly make a parody of themselves.
List of Famous Actors performing in Extras
Ross Kemp,
Les Dennis,
Patrick Stewart,
Vinnie Jones,
Samuel L Jackson,
Ben Stiller,
Kate Winslet
Francesca Martinez.
Second Series of the Extras
Daniel Radcliffe,
Orlando Bloom,
Sir Ian McKellen,
Chris Martin,
Keith Chegwin,
Robert Lindsay,
Warwick Davis,
Ronnie Corbett,
Stephen Fry,
Richard Briers,
Patricia Potter,
Sophia Myles,
Moira Stuart,
David Bowie,
Robert De Niro,
Jonathan Ross.
In 2006, he was also invited to write an episode of The Simpsons; the episode featured a reality game show, where Homer swaps his wife Marge. Ricky Gervais has said he enjoys watching reality game shows
Following his sucess in TV, Ricky has embarked on his own live stand-up tours. His first tour was called Animals, based around his fascination with the animal kingdom. His follow-up stand-up act was called Politics.
Since the Office and Extras, he produced a new TV series – Life's Too Short a series about the travails of a fading dwarf movie star David Warwick. It received mixed reviews, and displayed Ricky's interest in challenging comedy boundaries.
Originally produced in 2001, Ricky Gervias has produced a very popular podcast with Stephen Marchant and Karl Pilkington throughout the past few years. The Ricky Gervais shows is in the Guinness Book of World Records for the highest number of downloads. This proved the inspiration for the TV series, "An Idiot Abroad" where Karl Pilkington was sent abroad and asked to do bizarre challenges by Ricky and Stephen.
His latest project is a new comedy series called Derek, which is screening in 2013 on channel 4.
"My greatest hero is Nelson Mandela. What a man. Incarcerated for 25 years, he was released in 1990 and he hasn't re-offended. I think he's going straight, which shows you prison does work."
– Ricky Gervais
Citation : Pettinger, Tejvan. "Biography of Ricky Gervais", Oxford, www.biographyonline.net, 25/4/2009
Related