Joan of Arc is a national heroine of France, who came from very humble surroundings to inspire the Dauphin of France to drive the British out of the country. She was initially very successful, but later was tried for witchcraft and burnt at the stake. However, seven years after her death, the British left France and she became revered as an inspired leader.
She was born in 1412 Domremy, France, the daughter of a tenant farmer and died at the age of 19.
Joan of Arc's real name was Jehanne d'Arc. She is also known as Jeanne d'Arc (French) and at her trial, she called herself – "Jehanne la Pucelle" The Maid of Orléans. She may also have gone by the name

Jehanne

Vouthon.
From the age of 13, she reported hearing 'voices from God' – entrusting her with an important mission.
"I was thirteen when I had a Voice from God for my help and guidance. The first time that I heard this Voice, I was very much frightened; it was mid-day, in the summer, in my father's garden. "
– Joan of Arc from her trial transcript.
Mission to the Dauphin
There had long been a prophecy that a young female virgin would save France. This prophecy helped to build up a following for Joan of Arc.
Her mother had a dream that Joan led a band of soldiers because of this, her parents carefully watched over her – fearing one day she would leave home. Joan was outwardly obedient to her parent and when she felt it was time to leave, she took the help of her uncle.
When Joan of Arc first arrived in the court of the Dauphin in  Chinon in 1428, she was initially greeted with incredulity and suspicion. She was refused a meeting with the Dauphin. However, she stayed and some locals became impressed with her honesty and fervour. Eventually, the Dauphin agreed to meet her and in a private meeting – Joan is said to have revealed something only a 'messenger of God' could have known. After this, the Dauphin accepted Joan of Arc and took her seriously.
The Dauphin of France was Charles de Ponthieu, he was considered weak and an ineffective rule, but after meeting Joan of Arc the fortunes of the French changed. The Dauphin was crowned King Charles VII on 17 July 1429, a year after meeting Joan of Arc.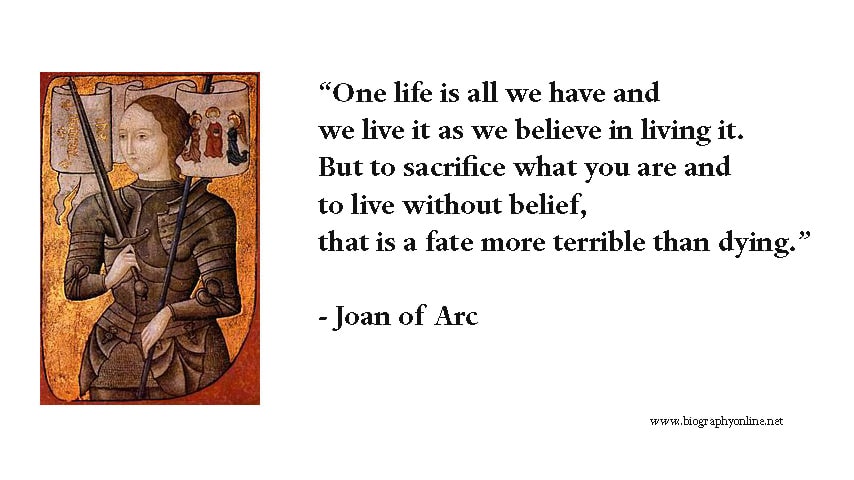 Fighting