Alan Titchmarsh was born in Ilkley, West Yorkshire. From an early age, he developed an interest in gardening. He said his interest was first awakened by visiting his grandfather's allotment. As a boy, he also developed an interest in natural history. Recently Alan Titchmarsh hosted the BBC series – British Isles – A natural history. It featured several scenes of Alan speaking from Ilkley Moor.
Alan left school at 15 and got a job as a gardener for the local council.Aged 18 he went to study horticulture and Shipley college and later Hertfordshire college. After graduating he gained employment at Kew gardens as an apprentice gardener.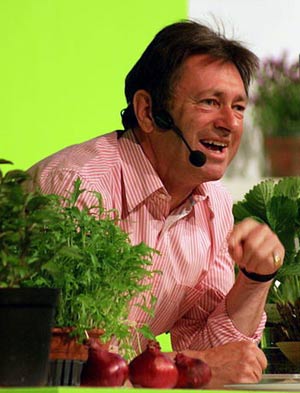 After a few years in 1974, he left Kew to pursue a career as a gardening journalist. He gained experience writing and was also offered positions with BBC radio. This included a gardening radio programme with Gloria Hunniford. From radio, Alan graduated to TV where he eventually landed the prime job of hosting – Gardeners World – the most popular TV programme. Alan had to take over from the very popular Geoff Hamilton and follow in the footsteps of Percy Thrower. However, his relaxed and friendly style soon endeared him to viewers and Gardeners World thrived. Alan has been credited for his typical Yorkshire down to earth attitude which avoids patronising viewers, but helps to share with them his genuine love of gardening. Many series were filmed at his home in Barleywood, Alton, Hampshire. His 1-acre garden became the best-known garden in the country.
As well as a gardening presenter, Alan is a journalist and writer of several best selling novels and over 40 garden books. He also left Gardeners World in to take an opportunity of hosting the high profile documentary – British Isles a Natural History.
Away from gardening, Alan Titchmarsh is involved in the charities, Seeds for Africa, and Gardens for School.
He was awarded an OBE in 2000