Geoff Hamilton was born in 1936 in Stepney, East London. From an early age he took an interest in gardening, as a youngster he helped out at local nurseries and after school studied at Writtle Agricultural College in Essex. He passed the horticultural exams with distinction and gained employment in gardening. In 1975 he moved into journalism gaining a place on Gardening News.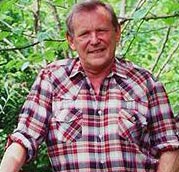 In 1979, he was given the job of working on BBC's Gardeners' World team, the popular gardening programme. Geoff soon endeared himself to the viewers with a more approachable attitude than previous presenters. Geoff was keen to show how gardening could be practically enjoyed, even if you didn't have much space or much money. His style was modest and often he would explain the things that went wrong. He wasn't a perfectionist but sought to make gardening enjoyable especially the aspect of growing things from seed and cutting.
Geoff Hamilton and Organic Gardening.
Geoff was an early pioneer of organic gardening, at a time when it was considered freakish and oddball. He showed how organic gardening could be practically implemented. In particular he sought to show the garden as a living organism. For example, he was known to encourage friendly predators such as hoverflies and butterflies, even going so far as to harden off his hoverflies.
His stance on organ ice gardening definitely made it more mainstream and encouraged others to take up his approach.
Geoff Hamilton and Paradise Gardens.
As well as presenting Gardeners' World for 17 years he also produced other series such as Paradise Gardens. This was a look at how ordinary people could make the most of their back garden or even just flower boxes in a tower block. He also loved to grow things cheaply and even had a section called the budget garden where he would grow everything from seed and recycle as much as possible.
Geoff was a great all round gardener but he had a particular fondness for the traditional British cottage garden and this was evident in the series Paradise Gardens.
Geoff died unexpectedly from a heart attack during a charity bike ride.
He was followed by Alan Titchmarsh as presenter of Gardeners World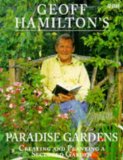 Paradise Gardens at Amazon.co.uk