Billie Piper was born in Swindon, Wiltshire in 1982.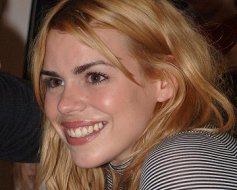 Her parents were Paul Piper and Mandy Kent. Billie has a younger brother, Charlie, and two younger sisters, Harley and Ellie. She went to school in Swindon including the Sylvia Young Theatre School (in London). In her autobiography, she claims that eating disorders were a significant problem at the school although this has been denied by the school.
Billie Piper Pop Career
At the age of only 15, she began a pop career that was remarkable in her rapid rise to fame. By the age of 20, she had 7 top 5 hit singles. Aged only 18 she married TV presenter Chris Evans in Las Vegas. This marriage broke up after a few years with Evans stating the age gap of 16 years as a significant factor. Billie says that the marriage did help her to stabilise her life and eating disorders, although the marriage did create a distancing with her parents.
Billie is best known for her acting roles, in particular, she became a house hold name through starring in the very successful New series of Doctor Who. Starring with 2 different doctors Billie Piper helped re-establish Doctor Who as one of the most popular science fiction programmes. In addition to acting in Doctor Who she has appeared in a range of productions including BBC costume dramas such as "The Canterbury Tales" "Much Ado about Nothing" and "Mansfield Park"
For her acting, she has received many awards including Most popular actress at the national television awards in 2005 and best TV actress at the glamour awards in 2006. Billie Piper currently lives in north London.
Billie Piper and Doctor Who
Given her rapid rise to global fame and her wealth of achievements in her first 25 years, it is ironic that the introduction to the new Doctor Who portrayed Billie's character (Rose Tyler) as someone who nothing happens to.
"Planet Earth. This is where I was born. And this is where I died.

For the first nineteen years of my life, nothing happened, Nothing at all. Not ever. And then I met a man called the Doctor –

a man who could change his face. And he took me away from home, in his magical machine,  he showed me the whole of time and space – I thought it would never end…"
Doctor Who II episode 12 TX script.
After 2 series Billie left to look for other different acting roles. There was speculation she may take part in future series or spin offs but at the present time these have been quashed.
In her autobiography "Growing Pains" Billie Piper reveals her experiences of attaining fame at such an early age. She explains how at times it became difficult to deal with. Managed by many different people she became increasingly distant to her parents. This was one reason why she "ran off" with Chris Evans. Writing on the experience of fame she says.
"The more successful you become the easier it is to give way to bad behaviour you become selfish and self oriented and lose all sense of perspective. It drives away everyone who really loves you."
Billie writes with honesty about how with each achievement she wanted more and more. However at the same time she writes how coming through these experiences has given her a more holistic perspective. Now she feels less motivated by attaining success at the expense of important relationships. She refers to these experiences as "growing pains" which are appropriate and a common experience for any who have had the very testing experience of achieving fame at an early age.
Throughout the book and personal difficulties, you feel Billie has a tremendous zest for life. Naturally confident and gregarious she has many good qualities which come through in both her acting and autobiography.
Citation: Pettinger, Tejvan. "Biography of Billie Piper", Oxford, www.biographyonline.co.uk, 30th Nov. 2009.
Billie Piper